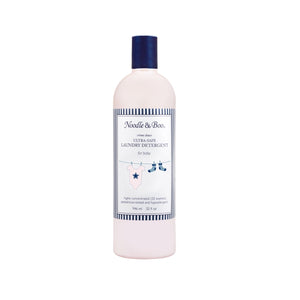 Noodle & Boo Ultra-Safe Laundry Detergent 32 oz
Regular price $18.00 Sale
Noodle & Boo Baby Laundry Essentials Ultra Safe Laundry Detergent. A liquid detergent that is pediatrician tested and hypoallergenic and featuring our signature Crème Douce scent. For normal loads, use 2 capfuls (1 ounce). Developed for both high efficiency (h.e.) and conventional washing machines. To pretreat stains, pour directly onto fabric and rub gently. If you are concerned about fabric reaction, test for colorfastness on an inside seam prior to use. Plant-based formula naturally removes stains and odors while preserving the condition of baby's delicate dainties. and biodegradable; nothing but goodness! Safe means no sulfates, dyes, formaldehyde, phosphates, phthalates, optical brighteners or 1.4-dioxane. N&B Signature Crème Douce Scent. Clinically-tested and Hypoallergenic. Made in USA. If you are concerned about fabric reaction, test for colorfastness on an inside seam prior to use.
Designed for Babies: A Pediatrician Tested Hypoallergenic Liquid Detergent That Removes Stains and Odors While Preserving the Condition of the Baby's Danties

Eco-Friendly, Biodegradable and Nothing But Goodness! Safe Means No Sulfates, Dyes, Formaldehyde, Phosphates, Phthalates, Optical Brighteners or 1.4 Dioxane.

For Normals Loads, Use 2 Capfuls (1 Ounce) Developed for both High Efficiency and Conventional Washing Machines

To Pretreat Stains, Pour Directly Onto Fabric And Rub Gently. If You Are Concerned About Fabric Reaction, Test For Colorfastness On An Inside Seam Prior To Use.

Noodle & Boo Creates Luxurious Products Using Gentle, Wholesome Ingredients That Embrace Sensitive Skin Types. Our Products Are Envisioned and Created in a California Facility. A Portion of all Proceeds are Generously Donated to Children's Charities.
ingredients: water, plant-based cleaners (decyl glucoside, glycerin, sodium oleate, lauryl glucoside), mineral-based water softener (sodium carbonate), plant-based water softener (sodium gluconate), plant-derived soil remover (carboxymethyl cellulose), enzyme soil removers (protease, alpha-amylase), fragrance
Noodle & Boo is the premier leader in luxury maternity and baby skin care. Noodle & Boo products are made in the USA with only the finest ingredients, and are safe and gentle enough to be used on newborns and during pregnancy.