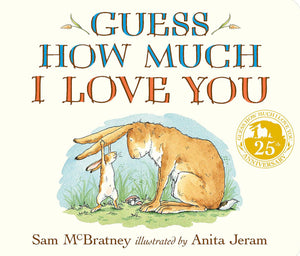 Guess How Much I Love You
"Guess how much I love you," says Little Nutbrown Hare. Little Nutbrown Hare shows his daddy how much he loves him: as wide as he can reach and as far as he can hop. But Big Nutbrown Hare, who can reach farther and hop higher, loves him back just as much. Well then Little Nutbrown Hare loves him right up to the moon, but that's just halfway to Big Nutbrown Hare's love for him.
Celebrate twenty-five years of love right up to the moon and back! A new board-book edition is perfect for little hands.

How much does Little Nutbrown Hare love his daddy? And how much does Big Nutbrown Hare love him back? The cherished tale of boundless affection is ready for boundless sharing in a durable board-book edition for the younger set.