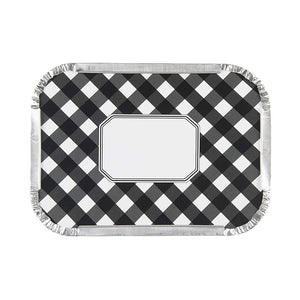 Foil To Go Pan - Medium Black
Your guests will love these as much as you do! Our medium disposable foil pan is terrific for baking, giving or bringing home anything from cookies to mac and cheese, and with our charming colors and design, they may just be too pretty to throw away . . . but you can!
These rectangular foil baking and take-out pans feature decorative paper lids, an attractive and convenient way to store and transport frozen and baked foods and leftovers of all kinds. Simply crimp the edges of foil pan over the paper lid to secure.
6 pans & lids per package | Holds 44 OZ  | 10" x 7 1/2" x 2" | FDA-Approved | Oven & Freezer Safe