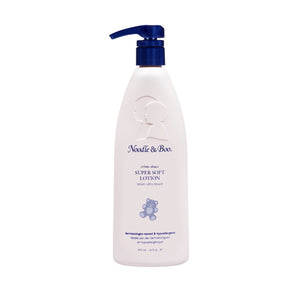 Noodle & Boo Super Soft Baby Lotion 16 oz
Regular price $18.00 Sale
Every mom's favorite baby lotion! Help your child's skin stay silky soft and smooth with this luxe baby lotion.
Sweet almond oil and vitamins E and C moisturize leaving skin sweetly supple.
Natural formula hydrates and protects delicate skin.
Provides a protective layer of natural antioxidants that help shield skin from environmental elements.
Mild enough for daily use; can be used on newborns and babies with sensitive skin.
Dermatologist and pediatrician tested; hypoallergenic.
Clinically-tested for sensitive skin.
Noodle & Boo® is the premier leader in luxury baby skin care. Noodle & Boo offers a comprehensive line of bath care, hair care and skin care products that nourish and protect sensitive skin. Products are made in the USA with the finest ingredients, and are safe and gentle enough to be used on newborns and during pregnancy.